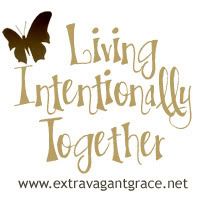 Encouragement and conviction are wonderful things and tonight I have experienced both. Lisa's post over at
Extravagant Grace
regarding
Living Intentionally
has been a God send. What began as a week of encouragement, reviewing and planning has now been extended for the new year and I am excited to be
participating
. The things that Lisa has planned for her year are the things that I want to intentionally plan as well, they include:
scripture memorization

- 2 new scripture verses per month. I would like to learn not only promises that I can claim but also verses that will help in counseling others as we are traveling.

expand my

prayer time

and

relationship

with God - some days it is difficult to find the time. I want to, with God's help, spend more time with Him.


mentor

my daughter and other women in my circle - I want to be a good role model to my daughter. I want her and others to truly see Jesus in me.

I would also like to add
marriage enrichment
to my intentional living plan for the year. I am so blessed with a great husband, I want to be a blessing to him as well. I also want to focus on my
character faults
, intentionally praying daily and allowing God to change me from the inside out.
Tomorrow I will be spending time looking for a verse for the year. A theme. As I have been recently studying the fruits of the Spirit, I know that my theme must include
Transformation
and I want to also focus on
Relationships
(God, Husband, Daughter, Others). So any suggestions of verses are greatly appreciated.
Ministry life is not always easy, but it is a blessing. It can save you, truly. It makes you want to cling to Him. This year, 2010, as we move into a new phase of ministry I do want to Live Intentionally for Him.